Iconic village of Italian Dolomites |
Santa Maddalena
North Italy is famous for many breathtaking picturesque places. 
Wonderful lakes, majestic peaks, charming towns, and much more. Sometimes it gets a little bit overwhelming to find the spot for the best view.
We believe you've already seen this idyllic church of St.Maddalena with magnificent mountains towering behind. Whether you know where it is located or not, it's one of the most iconic symbols of the Val di Funes, Dolomites.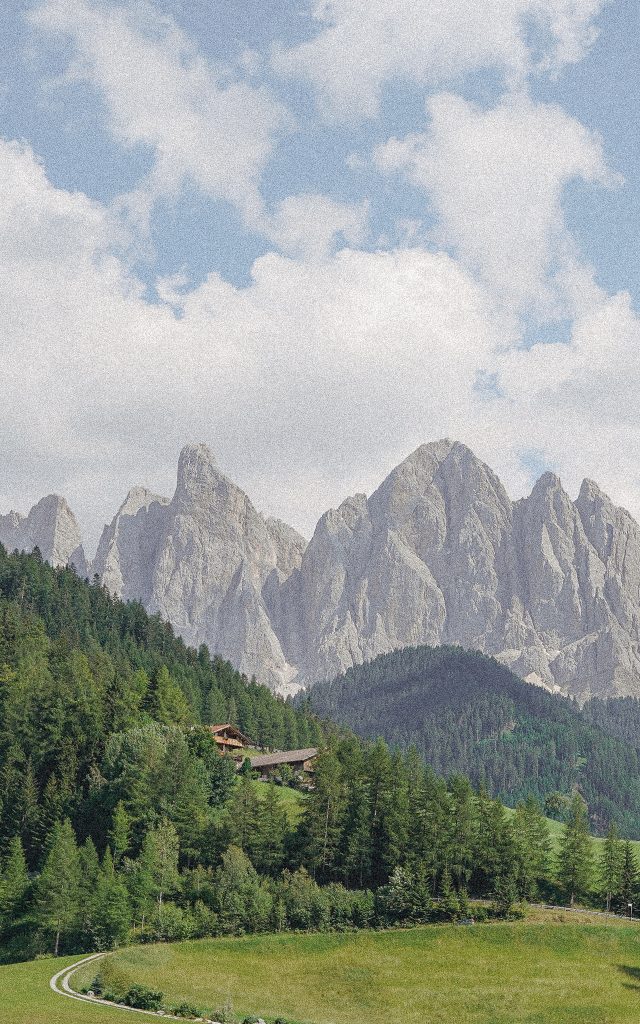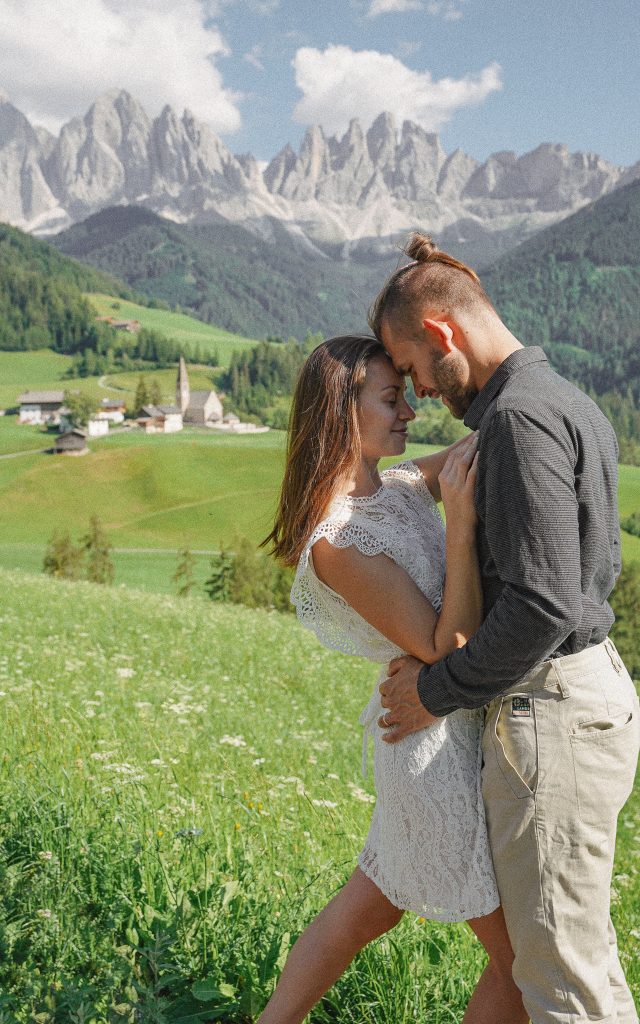 How to get to Santa Maddalena
As we already mentioned in other blog posts, we highly recommend visiting North Italy in general, by car. The reason is simple, this part of the country has so many sightseeing opportunities along roads. And many of those breathtaking spots are not so easy to get to by public transport. And what's more, your own car also allows you to explore early in the morning or stay for the sunset.
The closest bigger cities to St.Maddalena are Bolzano and Brixen. Reaching Santa Maddalena is very convenient from both directions. Once you arrived in the village, be aware that only residents can drive up the road to the church. There is also a ramp, which will not allow you to enter. That's what makes the valley very quiet and not crowded.
Where to park in Santa Maddalena
The closest parking lot to the viewpoint, where you can leave your vehicle is called "Parkplatz Bergerplatz". For the exact location just put into your navigation the following address: S. Maddalena, 102A2, 39040 Santa Magdalena. Although the parking lot is small, anytime we arrived we were able to find a spot. It's public and free of charge. 
The Village
Santa Maddalena (or Santa Magdalena) with its 370 inhabitants is located in Val di Funes. As a backdrop to this charming place stand mountains, which are the starting point for a variety of trials. During winter, Santa Maddalena offers a ski lift in the center of the village, and cross-country skiing along the Zannes round trail. You can even experience the snow-capped landscape on the horseback.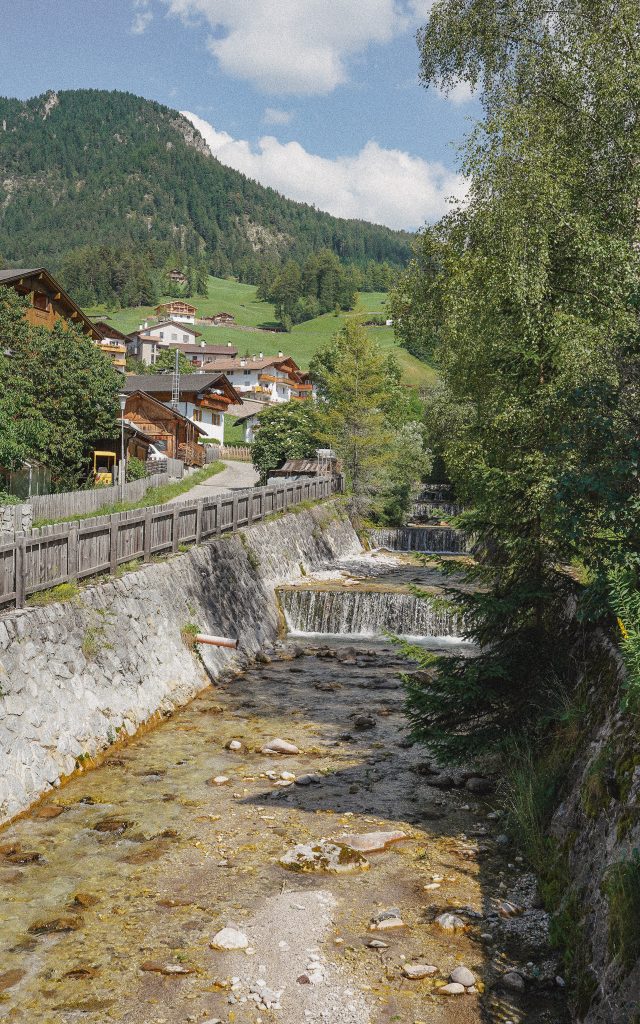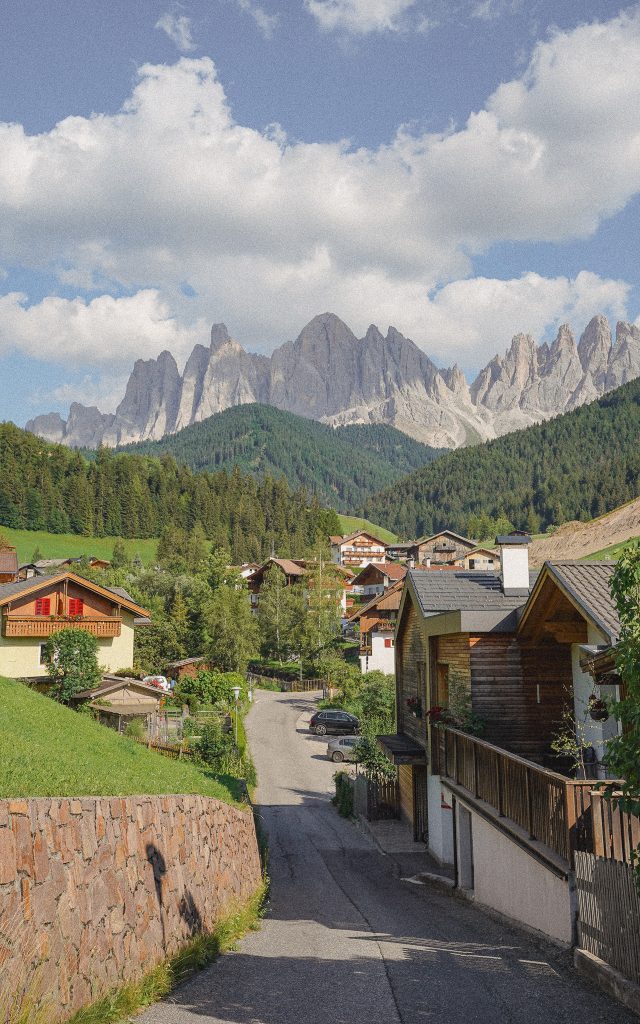 The church 
Santa Maddalena church (1,394 m) with the Odle mountains in the background, is the symbol of Italian Dolomites. The church sits in the valley, a few minutes' walk up from the village. According to a legend, that's the place where the miraculous image of St. Maddalena was washed up by the Fopal river. The Interior of St.Maddalena church is covered with bold colored paintings, ornate decors, and wood. A religious mass celebration is held every third Saturday of the month at 7 PM. Next to the church, you can find a few buildings including bathrooms. The place is very clean and free of charge. Small fee offer are welcomed but only in cash.
How to get to St. Maddalena's viewpoint
Once you're heading from the parking spot, you can see wooden signs like the one below. Basically, there's no other route you can take because you still see the church. You will walk along farm houses and farmlands, prohibited to step on in order to protect them. Please be respectful.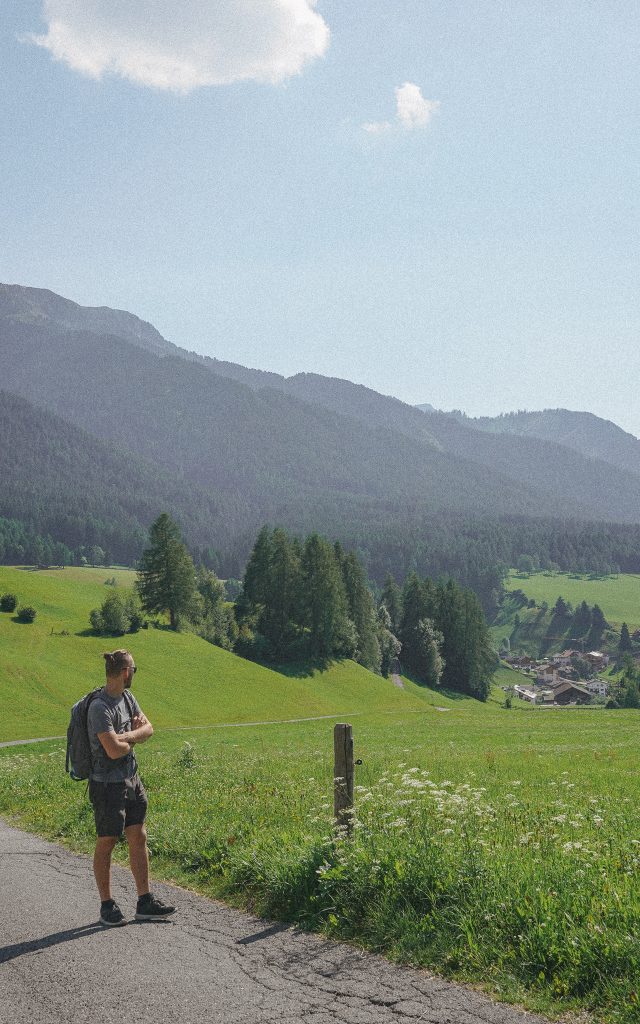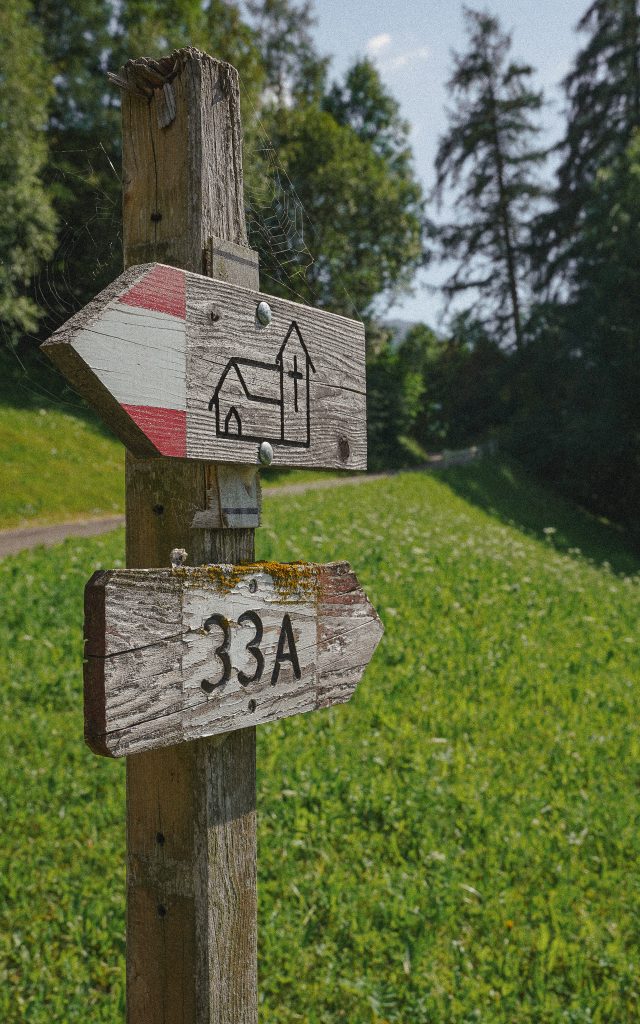 It could be confusing because if you put "Santa Maddalena Viewpoint" on the map, it can take you to the church itself not to the viewpoint.
We've made a map if you want to have a look, at how the way goes. At the "red location point" (on the map) you can decide whether you want to go to the right or the left. On the right side, you find a church. On the left side, you continue walking uphill to the viewpoint. On the way, you look up the signs "Panoramaweg". Once you arrive at a place with a bench go a little bit further (one curve upper) for the best Santa Maddalena photo spot. We've also marked that to the custom map bellow. The walk from the parking lot to this exact viewpoint takes around 25minutes, at a low pace with elevation gain of 70m.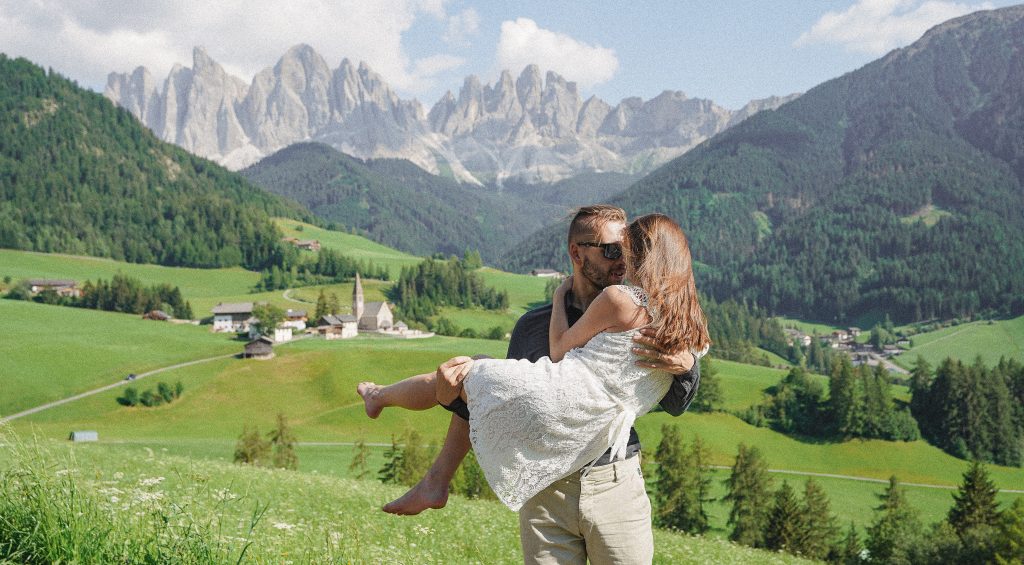 Right next to the parking lot there's a fresh drinking water fountain. Very refreshing before you continue your road trip! If you are interested in planning your Dolomites itinerary, feel free to reach out. We are here to help you plan your dream trip to North Italy!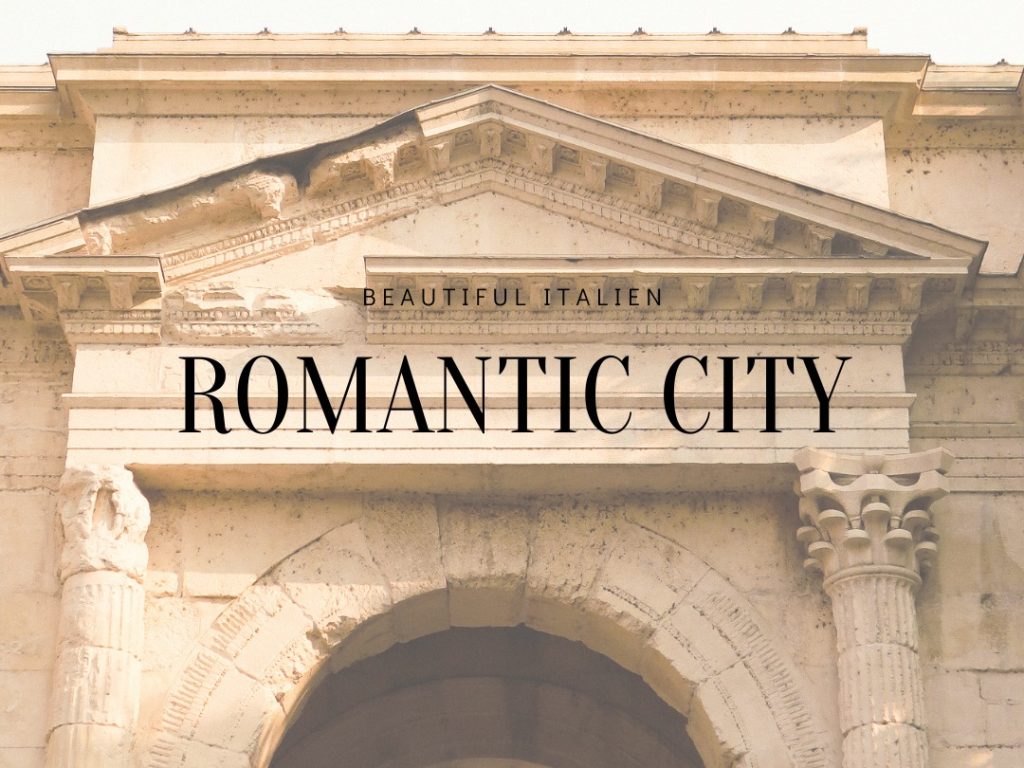 One of the most astonishing alpine lakes all over the Italian Dolomites, sitting in front of pine trees and the mountain range. Due to its popularity, it's quite a developed tourist spot, therefore in this article, we share a complete guide for your perfect visit. When is the best time to get there, how exactly to find the Lake and other useful information.
Discovering Lake Garda, Italy's largest lake, is one of the musts do when visiting North Italy. We've collected some of the best tips from visiting scenic tiny town Sirmione. So grab your coffee and prepare yourself for a perfect getaway!
Do you have any questions about a destination you've seen on our platforms? Are you planning your dream trip through North Italy and don't know what to cover? Or just want to share something? Be sure to reach out. We are here to help you plan a custom itinerary for FREE. Contact us and let's chat together.
We respect your privacy.
Love, N&M
If you are thinking about visiting the Dolomites (North Italy) be sure to reach out. We are here to help you plan a custom itinerary for FREE. Are you excited and full of questions? Contact us and let's chat together.
We respect your privacy.
Love, N&M