Is Rimini just about beaches?
Famous RIMINI. For a lot of people mainly known as a summer beach destination in Italy. We won't be lying, we were expecting exactly that. Sandy beaches, late evening parties, and all those kinds of things. But the opposite is the truth. Rimini is a historic city, which has so much to offer. We were surprised by the wonderful old town with plenty of offers to explore.  
When you are heading to Rimini, continue reading! Here are our best tips for Rimini.
1. Cool down and relax on the beach
Rimini is a seaside resort on the Adriatic Sea so it would be really a pity not head to the beach once you are there. It is the most typical activity in Rimini. Probably also along with the boat life. The coast area has around 15km of golden sand beaches. There has to be some reason why it is one of the most popular seaside resorts in Italy.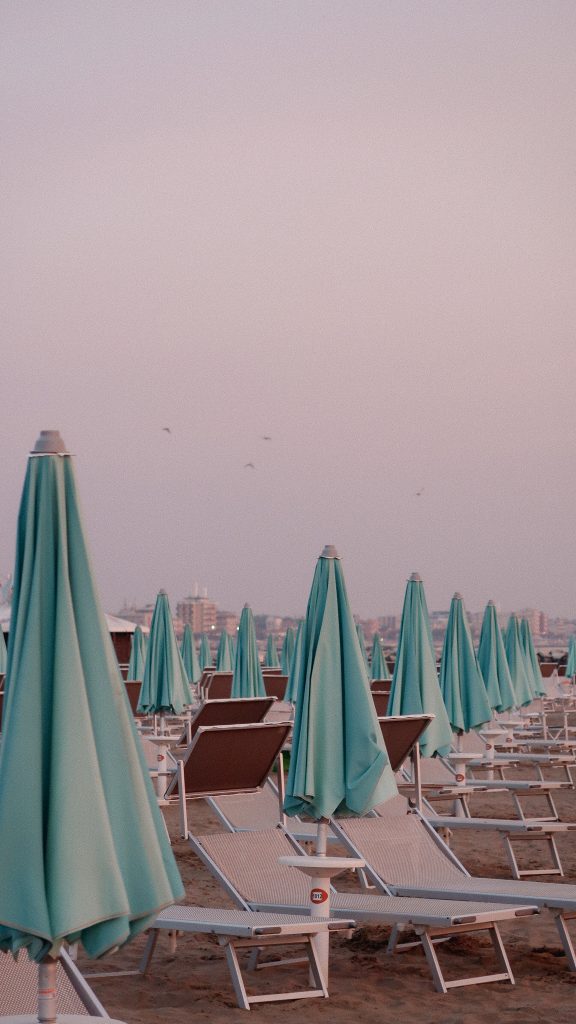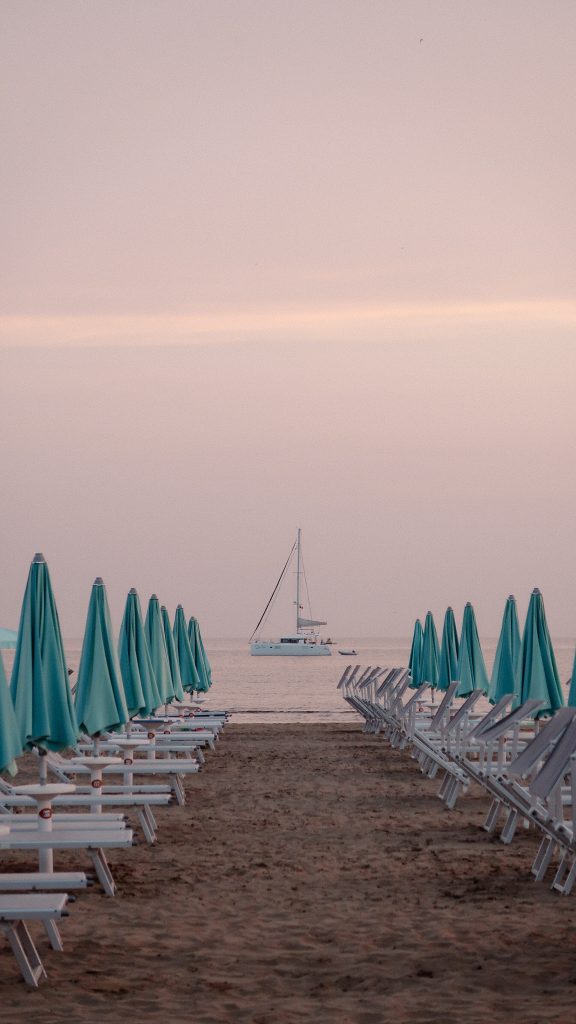 However, we have to admit, we are not big fans of this kind of large areas covered with sun loungers. Of course, the water is amazing, clean, and warm. The promenade is full of charming restaurants and beach clubs. But be prepared for crowds during the day from mid-June until mid-September.
2.Walk through Piazza Tre Martiri 
Literally translated as the "Three Martyrs Square" is called after the three fighters (Luigi Nicolò, Mario Cappelli, and Adelio Pagliarani) who were executed there. The square dates back to the middle ages and has been the center of the Rimini from the very beginning.
Today, Piazza Tre Martiri connects the Arch of August with the Tiberius Bridge.
The main dominant is the Clock Tower (Torre dell'Orologio) also called "Freedom Tower", as a reminder of glory to the fallen for freedom.
Set inside the Palazzo Brioli, the tower is spread over four levels. This clocks consist of two dials. One contains the passing of the hours while the other represents the months of the year.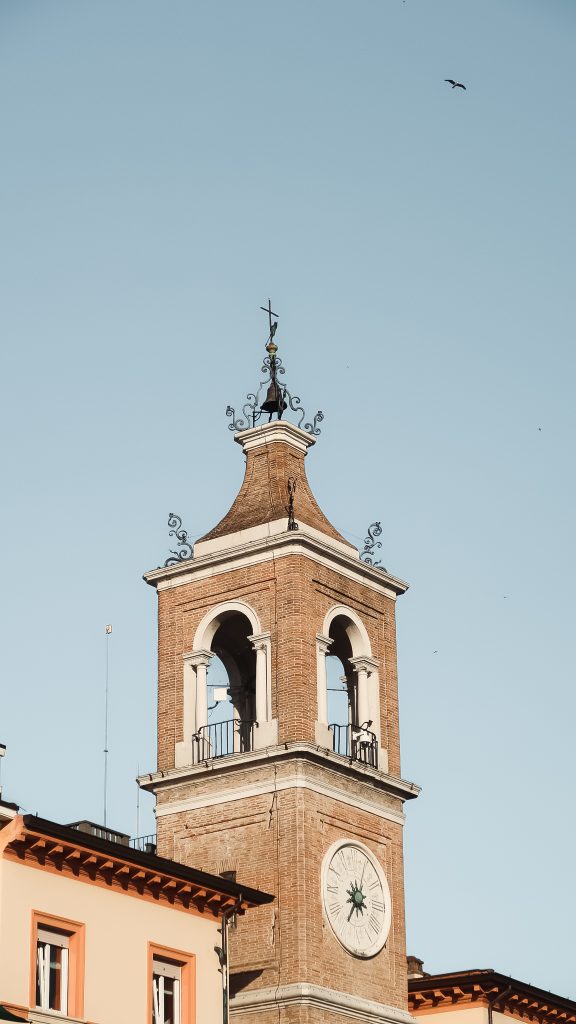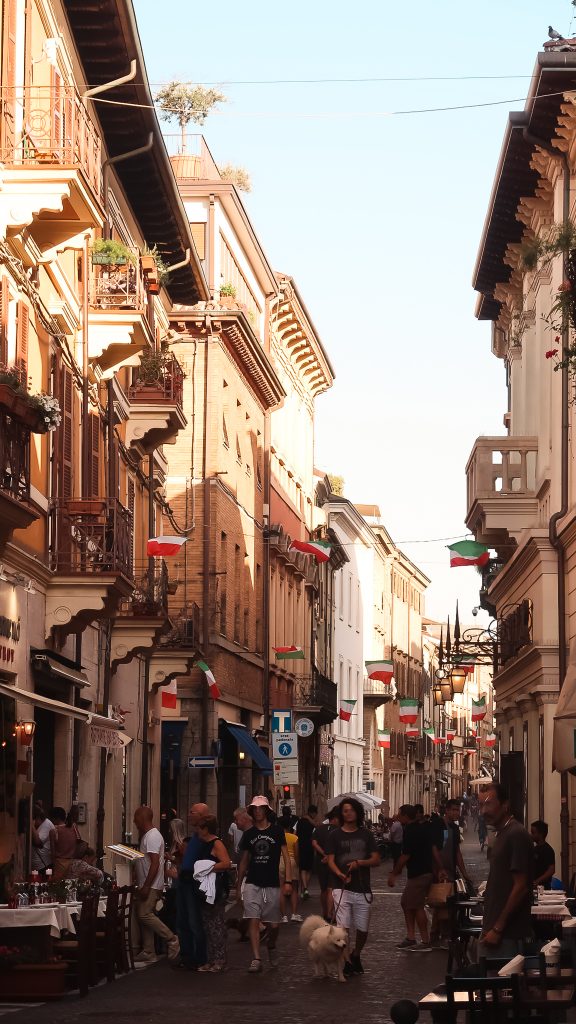 3.Cross the iconic bridge Ponte di Tiberio
The marvelous 2,000-year-old stone bridge is one of the must-sees in Rimini. This sight is one of the oldest in the city. It is the only bridge in Rimini which has resisted throughout the years of battles. It is very well preserved and despite its ancient age, it is still used for pedestrians and vehicles.

Crossing it means not only having a beautiful view but also being able to explore another side of the river. Right below the Tiberius bridge, you find a wonderful park. Parco XXV Aprile is a green lung of Rimini, an ideal spot for watching a sunset, having a picnic, or a walk.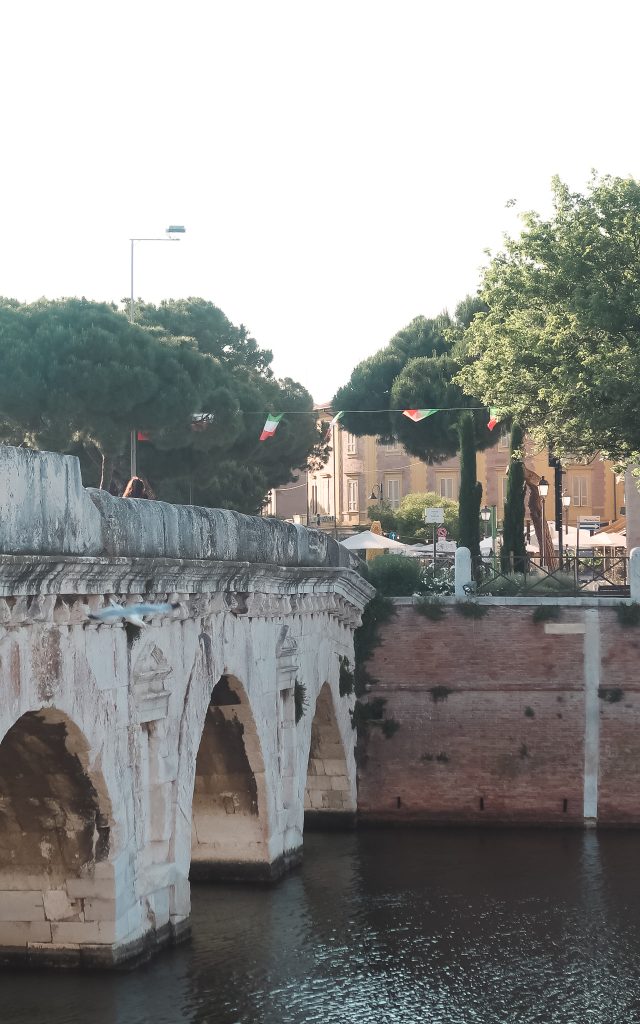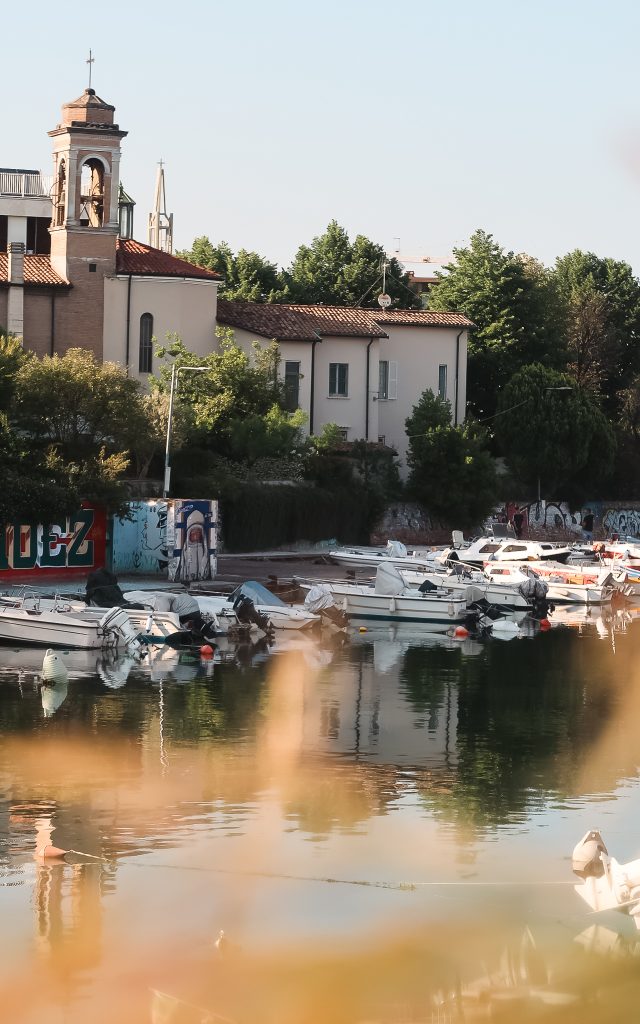 4.Discover tasty restaurants in the old center
If you are a fan of seafood, this place will be satisfying. We prefer other Italian delicatessens. Such as pizza, pasta, wine, tiramisu, and so on. 
There are plenty of cafes, restaurants, gelaterias, and bars where you can sit for a drink or dinner, or both. While enjoying your food, you can feel the vibe of the street life. 
Our favourite restaurant in Rimini old town is called "Il Cortile In Centro Pizza Gourmet".
It is located in Via Sigismondo Pandolfo Malatesta, 17/19, 47921 Rimini.
We had two different kinds of special offers pizza and a Mojito drinks. Which wasn't even on the menu, but when we asked for it they were happy to prepare it for us. For really delicious pizza, professional service, and very kind stuff we recommend checking out this place.
5.Stroll through the most photogenic Italian street
This tiny street was probably the most photogenic one we have found in Italy so far! Location is Via Ortaggi, Rimini.
Each of the houses standing here is painted and decorated in such a wonderful way. What's more, you can find a lot of iconic cars as Fiat500.
We believe it's worth walking through or taking pictures around as a wonderful memory. The atmosphere on this street is like a living postcard.
Hope you will be able to enjoy the famous Rimini and discover its gems, not only beaches. If you have any questions about visiting Italy feel free to reach out. We are here to help you plan your dream trip perfectly.
See you soon, Ciao!
Discovering Lake Garda, Italy's largest lake, is one of the musts do when visiting North Italy. We've collected some of the best tips from visiting scenic tiny town Sirmione. So grab your coffee and prepare yourself for a perfect getaway!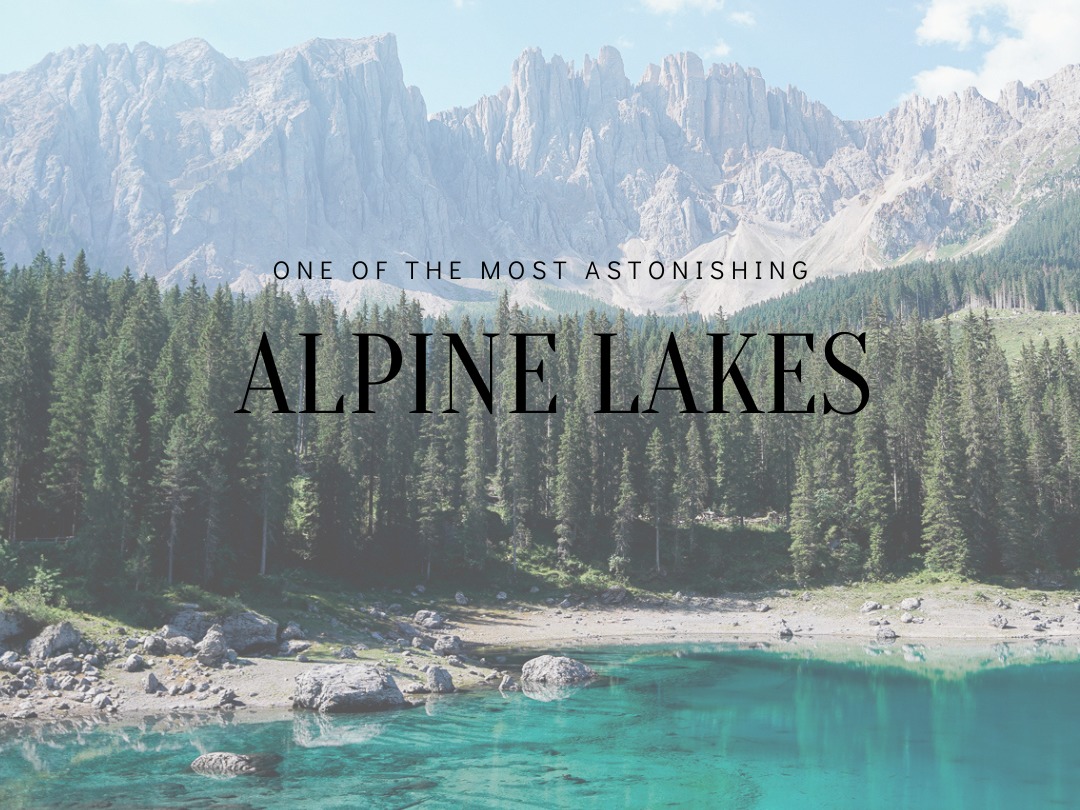 One of the most astonishing alpine lakes all over the Italian Dolomites, sitting in front of pine trees and the mountain range. Due to its popularity, it's quite a developed tourist spot, therefore in this article, we share a complete guide for your perfect visit. When is the best time to get there, how exactly to find the Lake and other useful information.
Do you have any questions about a destination you've seen on our platforms? Are you planning your dream trip through North Italy and don't know what to cover? Or just want to share something? Be sure to reach out. We are here to help you plan a custom itinerary for FREE. Contact us and let's chat together.
We respect your privacy.
Love, N&M